Venue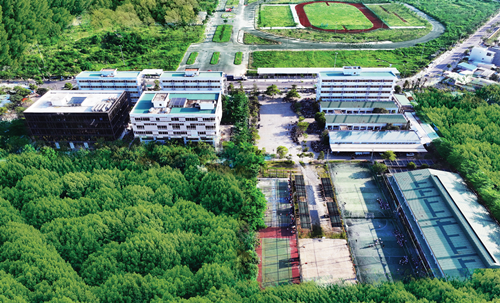 Liberty Central Nha Trang
Address: 9 Biet Thu, Loc Tho, Nha Trang, Vietnam
Email: frontdesk.lcn@libertyhotels.com.vn
Website: https://www.libertycentralnhatrang.com/en/
Located in the city of blue sea and white sands, Liberty Central Nha Trang is an experience of its own. The hotel offers 227 well-appointed guest rooms over 20 floors with breathtaking ocean views that brings a pleasant atmosphere and a home-away-from-home vibe to our guests.
Liberty Central Nha Trang had the privilege of hosting APEC in 2017 and, up until now, we are the only 4 star beach city hotel that provides an Executive Lounge to our guests ( Due to objective reasons, our Executive Lounge is temporarily closed until further notice). Designed for both business and leisure travelers, our hotel offers a private beach area that is only a few steps away and several other modern comforts that makes a relaxed and hassle-free stay.
With a perfect blend of local charm and international services, Liberty Central Nha Trang has been recognized by many of our guests for our excellent services and prime location.
If you want to book accommodation reservation, please contact the email address below to book with special price:
- Contact person 1:
Name: Ms. Thanh Tam (Tina)
Phone number: 0814.683.011
E-mail: sm3.lcn@libertyhotels.com.vn
- Contact person 2:
Name: Ms. Hai Vy
Phone number: 0905.034.818
E-mail: marketing.lcn@libertyhotels.com.vn

Type of room
Room rate
Deluxe City (27m2) – Twin or Double Bed
https://www.youtube.com/shorts/atOF26hhMcA
33 USD
Premier Ocean View (27m2) – Twin or Double Bed
https://www.youtube.com/shorts/yTredpO0bTY
https://www.youtube.com/shorts/vTJXVFgxiRA
37 USD
Executive Club (30m2) – Twin or Double room
https://www.youtube.com/shorts/0-f_r25MA5o
https://www.youtube.com/shorts/eNNOpeq5Ank
53 USD
Signature Ocean View (35m2) – Only Double
https://www.youtube.com/shorts/KDylNRlCqX8
63 USD
Extrabed
19 USD
Kid Surcharge (6 – 11 years old)
10 USD